Innovation
Our sales- , design- and production teams work in close cooperation. This way we have been able to continuously improve our machines by anticipating to information coming from our customers. This has resulted in a stronger, faster machine. Some of the more recent improvements are:
    Improved longevity compared to our former series of Haecksler 3
    Easier feeding of forked branches without jamming: Wider feeding hopper
    40% Wider rotor and cutting blades for better processing of bundles of branches
    Heavier rotor for more momentum and higher efficiency and easier shredding
    A stiffer frame to absorb the strong centrifugal forces combined with vibrations
    Heavier welding of materials avoid premature cracks
    Full compliance with recent EN and CE standards, mandatory by labor legislation.
    More ground clearance. Maneuvering with the old model 3 caused the frame to hit the ground or to be dragged through the grass. Haecksler 4 no longer has this problem.
    The feeding height for the branches is lower on model 4!
    Better 6-ply all-terrain tires instead of 2-ply
    In height adjustable foot
    Extra standard on rear side against tipping (Quick-connector)
    Quick-connector for towbar (lawn mower, mini tractor)
    Improved V-belt tensioning system: Tightening with two nuts only
    Quicker and easier chipper knife change
    Optional stronger 18 hp engine
    Optional Easy Rider system for moving on rough terrain and slopes
    Double safety curtain
Haecksler? A short introduction…
Based in Amsterdam, Haecksler has successfully been supplying compact but very efficient wood chippers throughout Europe for years now. We are a relatively modest operation and demand for our machines has been high from the start due to their popularity amongst tree workers and professional landscapers. That's why we have introduced our chippers step-by-step in to several of the European countries.
This way we could gradually increase our production capacity.  By the way: Haecksler is one of the very few genuinely European manufacturers of small wood chippers. Design, production, test-facilities and service are in our own hands and all located in Europe.
With the introduction of Haecksler 4 we realized our dream to build a better and more efficient wood chipper than all machines before. This model 4 has lots of improvements and a longer life span than our old model 3. Our strategy has been from the start to supply professionals directly.
Earlier qualitative innovations which separated us from the rest
Honda engine All Haecksler chippers are all equipped with the "more expensive" Honda brand. This engine has long been the number one for light industrial engines, and with good reason! Fewer problems and longer lifespan! Worldwide warranty (optional B&S engine)
Dynamic flow. The pressure which is built up propels the chips in the ejection tube as smoothly as possible. No scraps falling back or flow interruption. This is also how Haecksler shreds a higher volume of branches in a shorter time. Minor adjustments with a significant effect on productivity!
Compact and manageable. Low centre of gravity. Large diameter wheels. Strongly reduced  transport dimensions. Easy to get in and out of the vehicle and through the garden gate or door to work
Better blades with a longer lifespan. The best combination of hardness / toughness. Material which is too hard breaks the cutting blades, and material which is too tough wears out too quickly. After extensive testing Haecksler's technical specialist has accurately determined the appropriate hardness and composition of the metal.
Foldable handlebar. After moving the chipper, fold the handlebar under the feed tube and it never gets in the way during stockage.
Noise insulation. up to 8 dB noise reduction at work between buildings (on Haecksler 4Silent)
Variable discharge chute. Shredding to the left, right or straight backwards
Safety. Emergency stop within arm's reach. Sturdy safety curtain prevents the wood rebounding. Long feed tube: Impossible for the hands to come into contact with the rotating blades. No forced feed: If you pull the timber back, the shredding stops.
Thicker material and more solid unit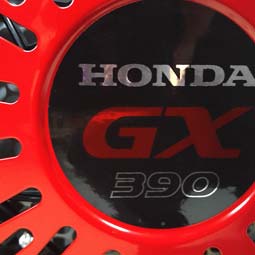 Honda. Best in light industrial engines
High processing output (Dynamic Flow TM)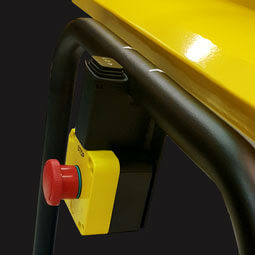 Emergency stop within arm's reach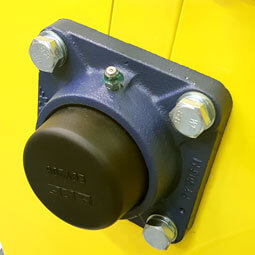 Large wheels with all-terrain tyres
Easily refillable petrol tank
Top quality shredding knives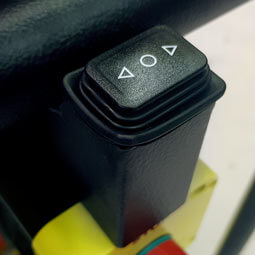 Thumb switch for Easy Rider system